Welcome to SEPL Attestation in Hyderabad
SEPL Attestation Hyderabad is a reputed agency which deals in Certificate Attestation, Apostille services and visa application services. We offer high quality, professional and speedy attestation/apostille and visa application service for the Ministry of External Affairs & Diplomatic Missions in India. All our satisfied customers confirm our claims. For any assistance, we have a dedicated customer care. We are an ISO 9001:2008 certified company formed in 2008.
The Ministry of External Affairs (MEA), Government of India has accredited us as their authorized Service Provider for attestation and apostille services, in recognition of our outstanding services. Also, the Cultural Division of Oman Embassy and the Cultural Division of the Yemen Embassy has assigned the entire culture attestation work to us, including documents for verification. We provide certificate attestation services in Hyderabad for various other countries like Saudi Arabia, Kuwait, UAE, Bahrain, etc. We also provide translation services in many foreign languages - Arabic, Spanish, French, German, Italian, Portugal, Russian, Malaysian and Chinese, for any type of document.
We process following documents for attestation in Hyderabad:
Educational Certificate Attestation in Hyderabad
All Indian educational documents require pre-authentication from the Human Resource Department (HRD) attestation. We process all educational documents for attestation. We assist in Diploma Certificate attestation, CBSE Certificate attestation, Medical Certificate attestation, Provisional Certificate attestation, Transfer Certificate attestation, Higher Secondary Certificate attestation, and Degree Attestation in Hyderabad.
Procedure: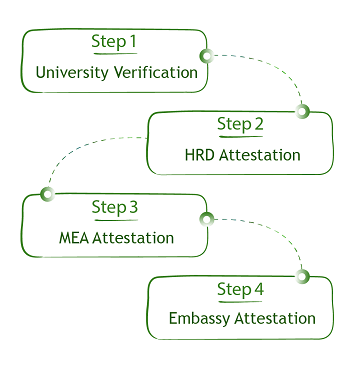 Personal Certificate Attestation in Hyderabad:
Home Department Attestation is a preliminary requirement for all Indian issued personal documents. We offer assistance for all Indian personal documents including Marriage certificate attestation, Experience certificate attestation, Passport attestation, Medical certificate attestation, Affidavit attestation, Power of Attorney attestation, Transfer certificate attestation, and NOC attestation.
Procedure: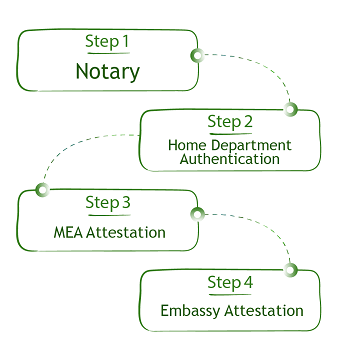 Commercial Certificate Attestation in Hyderabad
All Indian originated commercial documents require Chamber of Commerce authentication. We provide Invoice attestation, Income Tax Returns attestation, Packing List attestation, Certificate of Origin attestation, Memorandum of Agreement attestation, Free Sale Certificate attestation, and Certificate of Incorporation attestation services in Hyderabad.
Procedure: